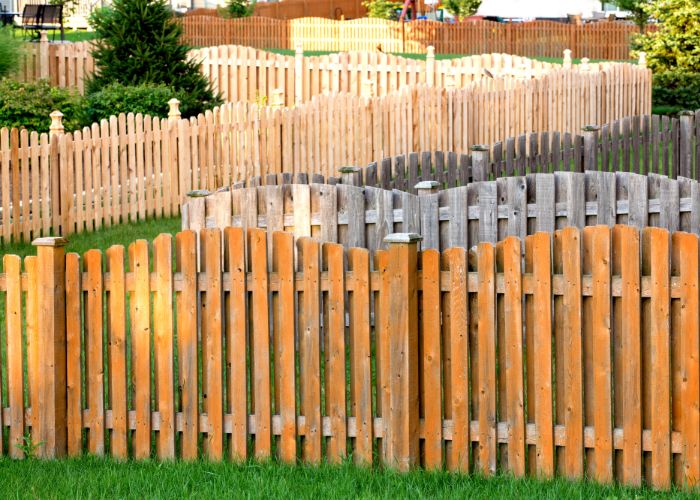 The time has come. You've deliberated long enough and have determined that you need a backyard fence. The only problem is you have no clue which style to erect. There are so many to choose from! You may not even be aware of all the many styles that are floating around the fence world.
So, which type of backyard fence is going to best suit you? That all depends on your safety and privacy goals and whether you want the fence to be aesthetically pleasing or not. The good news is we've narrowed your choices down to the five most popular designs.
You might be thinking that even five styles of backyard fencing are a lot to choose from. We understand how overwhelming this can be for you. So, we've decided to add a little detail to each of the five most popular backyard fences choices in this article.
Wooden Backyard Fences - A Timeless Classic
It's no wonder that wood made the top of our list. For decades, wood has been America's favorite choice of fence material. It gives your landscape a classic look and a traditional feel that is quite charming. Wood is versatile and easy to customize. It also provides you with any level of privacy that you desire.
Wrought Iron Fences are Tough & Durable
If you're going for elegance and the fortress-like security you may want to consider a wrought iron backyard fence. Just like wood, wrought iron has been used for fencing for a very long time. It's a beautiful material that leaves your property fully protected. Wrought iron is very low maintenance when installed properly.
Bamboo is the New Wood
Bamboo isn't actually a wood at all but rather a hard, sturdy tropical grass. This material makes the perfect backyard fence for those families who are extremely conscientious about preserving the planet. It is an organic material that leaves no carbon footprint and doesn't compromise the environment when harvested.
You'll find that bamboo is affordable and can last a lifetime. You'll like that it provides complete privacy, too.
Chain Link Makes for An Affordable Backyard Fence
When you're seeking an affordable option without any bells or whistles you can count on chain link to deliver. This type of backyard fence is versatile and strong. It's perfect for containing pets and children to the yard as they can't get out and nobody can get in. 
Vinyl Fences are Able to be Customized
Vinyl fences can be customized to be a bit more aesthetically pleasing when you design them in your favorite color and style. This makes them have more curb appeal and allows you to personalize your space.