If you're considering a cedar fence for a Rhode Island property, you'll also need to know how long cedar fences last. Cedar offers excellent features for residential lots, which is why it's often a favorite for homeowners! However, wood fences also pose special challenges you might not face with other materials.
With this in mind, check out some pros and cons of cedar and other wood fence materials as well as the durability and longevity of cedar fences in Rhode Island. Then, discuss your options with a fence installation contractor near you. He or she can offer even more advice on fencing for your property based on your needs and budget!
How Long Do Cedar Fences Last?
Cedar fences can last anywhere from 10 to 15 years, but they will need to be sealed and stained every few years to maintain their look and durability. If you live by the shore in Rhode Island, you might only get 5 to 10 years out of a cedar fence before the salt air starts to take its toll. But if you have a cedar fence in more inland areas, it can last much longer.
Cedar is naturally rot-resistant and insect-repellent, which helps it last longer than other types of wood fences. But even cedar fences will eventually succumb to the elements if they're not properly maintained. Sealing and staining your fence will help protect it from the sun, rain, snow, and ice.
If you want your cedar fence to last as long as possible, you'll need to take good care of it. Inspect it regularly for damage and repair or replace any boards that are starting to rot. And be sure to apply a fresh coat of sealant and stain every few years. With proper care, your cedar fence can last for many years.
First, consider why a cedar fence in Rhode Island is so popular with homeowners. One reason to choose cedar is that it's very durable, often lasting for decades with regular maintenance. Two, cedar is often cheaper than other materials, including fiberglass and vinyl. In turn, you can enjoy a large-scale cedar privacy fence even with a limited budget.
Above all, cedar fences provide a stunning appearance that you can't match with other materials. Even other wood species don't provide the same look as rich, elegant cedar. A homeowner can also repaint wood, allowing you to change the appearance of a fence when needed. Also, an eco-friendly homeowner might choose wood over another material that doesn't recycle so easily.
Moreover, cedar fences typically work well with a wide variety of home styles and architectural types. You can choose a cedar fence for a traditional property, modern architecture, and anything in between! The material also absorbs soundwaves, creating a quiet outside environment.
Lastly, since so many homeowners love cedar, it can attract buyers if you should put your property on the market. A full privacy fence can also block the view of neighbors around a pool or patio, making it an excellent choice.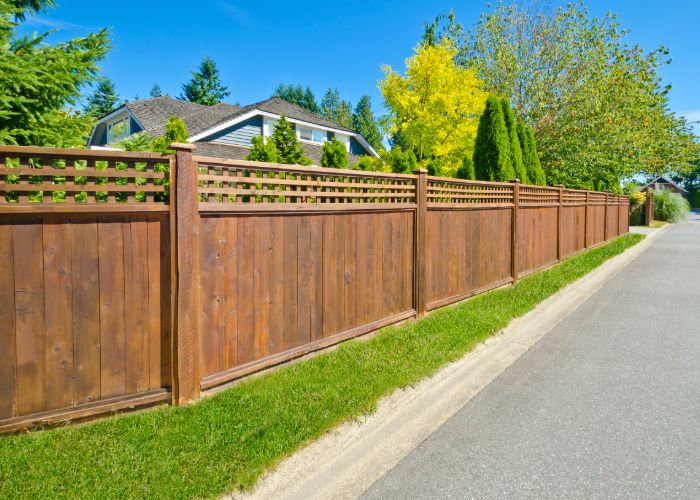 Disadvantages of a Cedar Fence
High maintenance
One reason that homeowners don't choose cedar is that it can fade over the years, often to a silvery gray. Two, wood fences need consistent maintenance including resealing. Without this maintenance, the wood might rot or become host to mold and termites. Wood is also more susceptible to damage from airborne chlorine and other chemicals.
Additionally, wood fences show stains more readily than other materials and don't clean as easily as vinyl or fiberglass. It's also easier to damage wood with improper power washing tools and techniques. Pets might also damage wood fences more easily, especially larger dogs with sharp nails! Also, while wood fences are cheaper than some materials, cedar is at the top of the price range for wood.
Can be costly
Another consideration is that homeowners might avoid DIY cedar fence installation. To ensure planks stay in place over the years, invest in a professional service instead! While professionals provide expert installation, this also adds to your fencing costs.
Don't overwhelm your property's aesthetic
Moreover, some homeowners might not want a full-scale privacy fence on their lot, especially for smaller properties. Consider if a cedar fence might overwhelm your yard before deciding it's right for your home's exterior.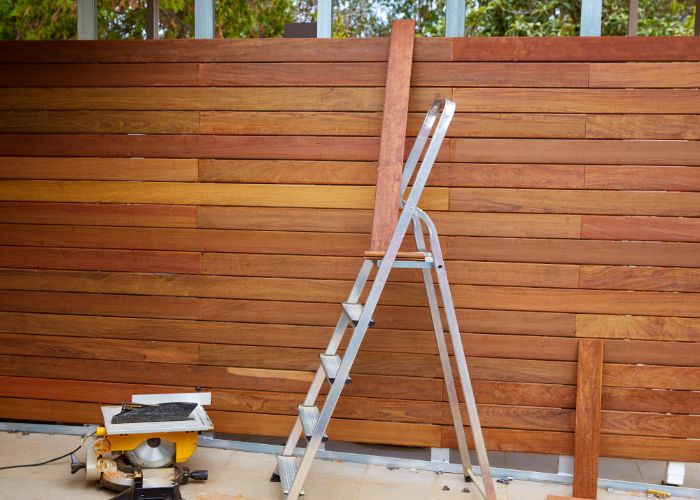 What Is the Best Fence Material for a Residential Property?
While cedar offers many great advantages, it's not the only fence material on the market! Check out some pros and cons of other fencing options for your home. Also, remember to discuss your choices with a fence contractor! Their advice is invaluable in choosing the right fence for any property.
Chain link fencing is very affordable, and a homeowner might install it themselves. However, it does offer an industrial look that not every homeowner appreciates.
Vinyl and fiberglass are tough and durable, withstanding rot, mold, and other damage. It also resists stains and damage from pets. One drawback to vinyl and fiberglass is that not everyone appreciates their artificial look and feel.
Glass fences are excellent around pools, where it's vital that you maintain a clear view of children. Also, glass provides a soundproof fence material, keeping out the noise from your neighbors! On the downside, glass shows water stains, mud, and other unsightly marks.
Mesh fences provide some privacy while not closing off a property completely. They work well with just about any architectural style.
Fence Company of Rhode Island is happy to provide this information about a cedar fence for Rhode Island properties. Hopefully, you found it useful when choosing your property's fence! If you're in the market for fence installation or repairs, call our Rhode Island fence installation contractors. We offer FREE quotes and guaranteed services. To find out more, use our contact form or just pick up the phone and give us a call.