Is a privacy fence a good investment? This is a vital question for homeowners, as privacy fences are often an expensive fencing choice! Additionally, it's important to consider privacy fence drawbacks as well as their benefits. This will help you choose the best fencing choice for your property and one you'll appreciate for years to come.
Of course, a fence installation contractor might offer some advice on fencing materials and options for your home. Also, he or she should also know local building codes and other regulations that affect those choices! In the meantime, note some expert advice on privacy fences and other options from which to choose.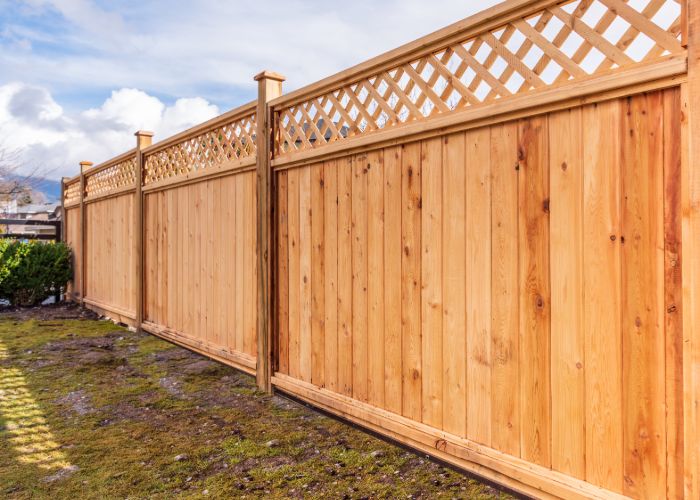 Deciding if a privacy fence is a good investment
First, note that homeowners need to consider what fencing option works for their property and needs in particular. Second, it's helpful to consider all the pros and cons of privacy fences. Lastly, you might consider the differences between privacy fencing and other fencing choices. In turn, you can decide the right fence design and material for your property!
How do you decide on a fence?
To see if a privacy fence fits your needs, consider all the details involved in choose a fence:
What is your objective in putting up a fence? Do you just need to mark boundaries between properties?
On the other hand, is noise an issue either from your property or a neighbor's home? Are your homes so close that you need to block their view or yours when you're outdoors?
Also, do you need to block debris from ending up in a pool, along a patio, or in your garden?
Do you need to stop animals from making their way onto your property and causing damage?
Consider your property's style. Is your home's appearance traditional, modern, or something in between?
Think of how a fence affects the view when you're outdoors! You want a fence that enhances the horizon rather than detracts from it.
Always remember long-term maintenance costs and efforts when choosing a fence, not just its installation price.
Above all, ensure you know local building codes and HOA restrictions or requirements for your property's fence.
What are the pros and cons of a privacy fence?
Being honest about the pros and cons of a privacy fence can help you decide if it's a good investment for your property. Also, be sure to discuss these with a fencing contractor near you, for added information about this fence style:
Privacy fences block the view of your neighbors and keep you from seeing their yard as well. They can also block other unpleasant sights such as nearby production facilities, an alley, and so on.
Solid privacy fences also help to block noise. They're excellent if you want to avoid hearing your neighbors, a busy roadway, nearby schools, and the like. Also, a privacy fence keeps your neighbors from hearing you, your dogs, and so on, for less risk of complaints!
Tall privacy fences provide an excellent backdrop for landscaping features, helping them to stand out and get noticed.
A privacy fence helps block sand, dirt, and litter from blowing onto your property. This can mean a cleaner pool, patio, and other outdoor space.
A privacy fence helps keep stray animals and wildlife out of your yard.
On the downside, a privacy fence blocks your view of your property's surroundings including trees and other nature!
Consider if it's more secure to allow neighbors to see into your property. For example, a neighbor who is home during the day might notice someone trying to break in while you're away!
Large privacy fences can create a closed-in feeling especially along small properties.
Without the right landscaping in front of them, privacy fences can also seem overwhelming and a bit stark!
Wood fences usually need the most upkeep over the years. Choosing a wood privacy fence can then mean more maintenance costs over the lifetime of homeownership.

What are the best fence choices for a residential home?
Consider how privacy fences and various fence materials stack up against each other. This information can help you choose the right fence style and design for your property!
Wood fencing offers a stunning, classic look that many homeowners appreciate. However, wood often requires the most maintenance over the years. Also, wood set in soil risks premature rot. In turn, be prepared to pour a concrete base if you do choose a wood fence.
Vinyl fencing requires little to no maintenance over the years. It's also easy to wash vinyl fencing yourself with just a few household cleaners! However, ensure you choose a professional installer as you might notice any section out of level or otherwise uneven.
Metal fencing offers a classic look and rugged design that lasts for years. On the downside, it's vital that you seal the metal as recommended to prevent corrosion.
Poured concrete mimics the look of stone or brick for far less money! Also, you can customize concrete surfaces to complement your property.
Chain link fences offer affordability and keep your space open. On the other hand, they often look very industrial and are prone to rust and corrosion. A hurricane fence also offers very little privacy and noise insulation.
The increase in home value with a privacy fence
Along with considering the pros and cons of a privacy fence installation, you might wonder if it increases your home's value. In many cases, a new fence can increase home values but not by a large percent of their cost. However, you might consider the benefits of a fence beyond your financial return on investment:
Privacy fences are especially excellent for keeping out potential intruders. Not many thieves can scale a six-foot fence or climb back over while carrying stolen goods!
A privacy fence not only blocks the view of your yard but inside your home as well. This can also deter potential thieves while offering added privacy.
Blocking debris from ending up in your home's pool means less wear and tear on the filter. Additionally, keeping debris out of your yard means less cleaning of the pool, patio, and other spaces.
Installing a fence ensures neighbors know their property's boundaries. In turn, you might have fewer conflicts over mowing, landscaping, and other such issues.
Blocking your dog's view of neighbors and passersby often means less barking! A strong fence also helps keep pets and children in the yard.
Fences help provide a backdrop for landscaping features, allowing your beautiful flowers and shrubs to stand out! Solid privacy fences also provide a space for hanging flowers, bird feeders, and other outdoor attractions.
Is it rude to put up a privacy fence?
First, ensure you understand all local building codes and HOA restrictions before deciding on any fence! Second, consider how your privacy fence might affect your neighbors. For example, if there is an attractive feature behind your homes, would the fence block their view? Would a privacy fence along the front yard make the neighborhood look cluttered and unwelcoming?
Also, consider the appearance of your planned fence and how that might affect neighboring properties. As an example, an overly bold paint color might seem attractive to you but an eyesore to others. It's also vital that you keep the fence well-maintained so it doesn't sag or rot. Above all, you need to ensure the fence doesn't collapse onto their property!
On the other hand, a privacy fence might be a courtesy to your neighbors! For instance, those neighbors might appreciate you blocking the sights and sounds of your noisy dogs or energetic children. Also, they might appreciate a secure fence that keeps your pets out of their yard.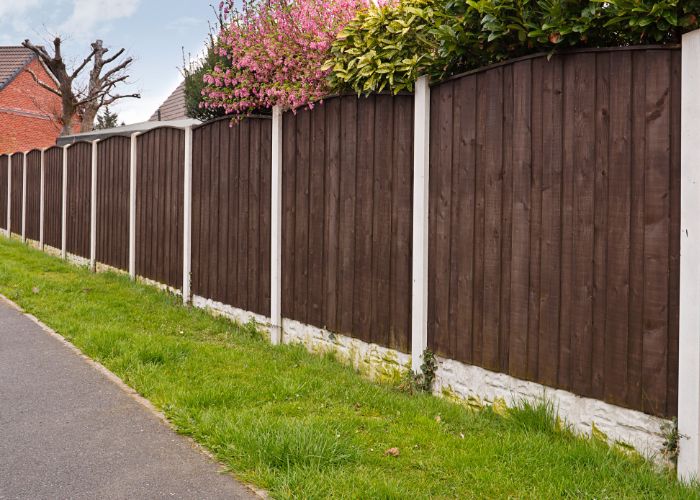 Is it cheaper to build your own privacy fence?
It's often cheaper for a homeowner to manage any improvement or repair project around their property, including fence installation. However, you might note why hiring a professional installer is often the better choice:
Ensuring an even and level fence is often more difficult than homeowners realize. Consequently, you might end up with a very unsightly fence line on your property.
If not installed properly, privacy fence pickets might tend to sag or pull away from connectors. In some cases, they can also outright collapse.
A professional installer ensures gates connect securely to fence posts.
Fence installation contractors are typically familiar with local building codes. Also, they can usually pull needed permits before installation begins!
An experienced fence contractor usually has a wealth of knowledge when it comes to fence design and materials. In turn, they can help you choose the right one for your property.
Experienced installers can also advise on changes needed to your property, to keep the fence secure. For instance, they might notice dangerous tree branches overhead or poor drainage on your property.
For all these reasons, always work with a professional fence installation contractor for needed fencing on your property.
Fence Company of Rhode Island is happy to help answer the question, is a privacy fence a good investment? Hopefully, you found this information informative and practical! If you're in the market for a good fence, contact our Rhode Island fence installation contractors. We carry a wide range of options, sure to fit your property and budget. To find out more, call us today.