You've decided that you're going to build a fence but you don't know which style to choose. You have a modest budget so you need to choose an affordable fence in Rhode Island. This can be a really overwhelming decision, especially if you have no idea about fencing material costs.
So, what is the most affordable fence in Rhode Island? Luckily, we have that answer for you! It seems that chain link fences are at the top of the list for affordability. This fence is practical, durable, and can look great around any commercial or residential landscape.
Of course, the chain link is not your only affordable fencing option in Rhode Island as there are a few other choices to consider. We're going to discuss some of these choices in this article.
Why is Chain Link the Most Affordable Fence in Rhode Island?
A chain link fence will typically run you about $6 to $9 per square foot. This is a very modest price and can normally fit into most budgets. Not only are chain link fences affordable but they are also quite durable. You can depend on them to keep your assets safe and secure. Their initial cost is cheap and they end up being inexpensive over time due to their strength and low-maintenance features.
What About Found Material Fence Building?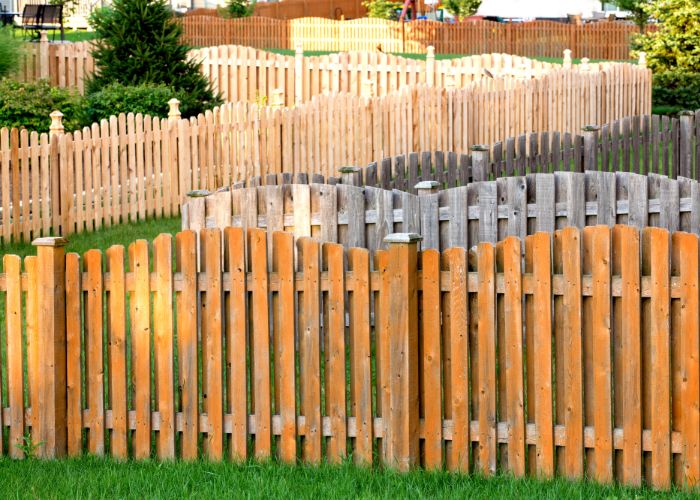 If you're going for a rustic, steampunk type of look a found material might be an incredibly affordable fence in Rhode Island option. Found material is literally just what its name states: materials that you found. This can be anything from old bricks to pieces of driftwood. Great places to find interesting fence materials are around old buildings that are being torn down, junkyards, and even your own home. 
You might think that utilizing found material will give you a free fence but you still have to face installation costs associated with found fence building.
Vinyl: Another Affordable Fence in Rhode Island
We do need to disclose that the initial investment of vinyl fencing can be quite costly and definitely surpasses a chain link and found material models. However, in the long run, you'll save money on maintenance costs, paint, stain, and other materials associated with this style of fencing.
Vinyl is very durable and doesn't easily buckle under the pressure of wild winter weather, either. We think vinyl is among the most affordable fencing in Rhode Island.