For years, the white picket fence has been a symbol of old country farmhouses, quaint town villas, and a symbol of rural America. However, there are many who don't quite understand what the "picket" in picket fence actually means. Are you one of them?
So, what actually is a picket fence? Well, to simply put it, a picket fence consists of a flat board with some sort of decorative squared top. As long as the fence adheres to these basic guidelines it can fall into the category of being part of the picket family.
There has to be more to picket fences than just that, right? There are a couple more in-depth details and that's what we are going to discuss in this article. By the time you're done reading you'll be a picket fence expert!
What's a Picket?
You might think that picket fences have only been around since the 1950's when it seemed everyone had one around their house but their lineage starts way before that. In fact, the picket came from the Greek Revival period. Although we aren't sure whether the pickets were actually used for fences or weapons during that time.
A picket consists of a flat board with an attractive flat top that is face nailed to horizontal rails between posts. The picket itself is a 1.5-inch squared stake that can feature a rounded or pointed stake-like top.
Can Picket Fences Come in Varying Styles?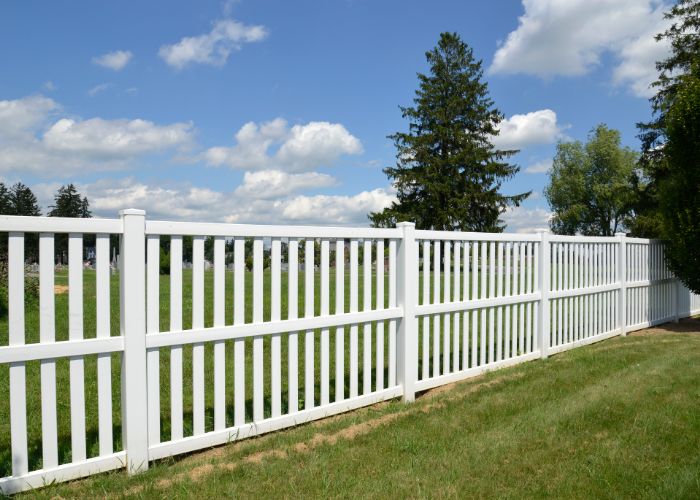 Absolutely! In fact, picket fences are extremely versatile and can be customized to complement your properties landscape and the theme of your house or business. You can choose from classic to laid-back options.
Is Wood the Only Choice For Picket Fences?
Nope! There are plenty of options available for picket fence design. Back in the day, wood was the only option available but we've evolved since then into the territory of vinyl, PVC, metal, and composites. These materials are much more low-maintenance than traditional wood pickets.
However, if you are into a true, classic white picket fence look then your best bet is to stick with wood and paint it with some white lacquer. You can pursue this as a DIY project but picket fences turn out much more beautifully when a professional fencing contractor is hired to perform the job.
Before you begin your picket fence project make sure you know the shape. Style, and color you want it to be and then you're all set!