A vinyl fence is an excellent choice for both residential and commercial properties. Vinyl offers many advantages over other materials and works with various architectural styles. On the other hand, wood fences provide a stunning aesthetic you can't match with vinyl!
Property owners might wonder if vinyl fencing is better than wood or vice versa. Unfortunately, there is no "one size fits all" answer regarding the best fencing for your property. Consequently, it's best to review all your options and the pros and cons. You can discuss your choices with a fence installer near you.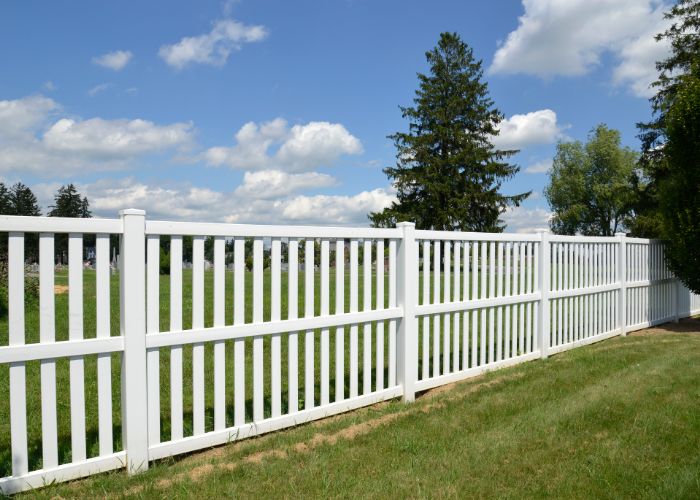 Why Choose a Vinyl Fence Over a Wood Fence
There are many reasons to choose a vinyl fence for a property. Check out a few of them, and don't hesitate to ask a fence installer for more information as needed:
Vinyl fences have required little maintenance and upkeep over the years. For example, they don't require painting or staining and rarely crack or chip. The cost of a wood fence may be less upfront but more over the fence's life. Not to mention, the ROI on a vinyl fence is much higher.
Nonporous vinyl doesn't typically absorb dirt and grime like other materials. In turn, a vinyl fence only needs a light power washing to keep it clean.
A vinyl fence isn't as prone to water damage as wood or other materials. As such, vinyl is an excellent choice for pools or areas with high humidity.
Having a vinyl fence means not having to worry about chips or splinters! Consequently, they're an excellent choice for homes with children or pets who might play on or around the fence.
While mold might cling to a vinyl fence surface, it doesn't settle inside cracks and chips like wood fencing. As a result, it's easier to clean mold from vinyl than wood.
Manufacturers typically offer a wider variety of vinyl fence designs than other materials. For instance, you can purchase a vinyl fence with individual slats, similar to wood fences. Also, you might choose one with a lattice border along the top.
Property owners often assume that stores only sell white vinyl fencing. This isn't true! You can purchase a vinyl in various colors and designs, resembling wood, metal, and other materials.
Vinyl makes an inferior host for insects! Consequently, you don't need to worry about infestations or termite damage to a vinyl fence.
In summary, a vinyl fence is made out of PVC (polyvinyl chloride) and is a great alternative to a wooden fence. Vinyl fences are made to last and do not rot, decay, or warp like wood fences. They are also immune to insects and pests, making them a more durable option. Vinyl fences are available in many colors and styles so that you can find the perfect one for your home. They are also easier to maintain than wood fences; all you need to do is wipe them down with a wet cloth or spray them with a hose to keep them looking new.
What Are the Disadvantages of Vinyl Fencing?
Property owners love vinyl fencing for its durability and for how easy it is to clean. However, vinyl is not without its disadvantages! First, note that some property owners might not like its artificial look and feel. Second, vinyl is often at the high end of any fencing price range.
Also, mold and other growth might stain a vinyl fence more quickly than other materials. Wood, metal, and glass are also more easily recycled than vinyl, making them a more eco-friendly choice. Also, a property owner might replace one wood slat when damaged. On the other hand, you might need to return an entire vinyl panel if it's cracked, chipped, or warped.
Does a Vinyl Fence Increase Home Value?
There is no guarantee that a vinyl fence will increase a home's value. However, vinyl fencing can make your home more appealing to buyers in many cases, thereby increasing its salability! How so?
First, homebuyers consider several factors when choosing a property, including security and curb appeal. Second, they often compare properties to each other, noting which offers the most "bang for their buck."
Consequently, homes with vinyl fences might stand out from the competition in many ways. A solid panel vinyl fence means privacy from your neighbors, especially when compared to chain link or mesh. Solid vinyl fencing is excellent for keeping children and pets in the yard! Finally, homebuyers with families often appreciate durable, solid panel fencing around their yards.
Additionally, homebuyers might consider vinyl fence lifespans when choosing a new house. They realize that buying a home with a vinyl fence means not having to replace that fence for many years! That home might win them over versus properties with wood or metal fencing.
Also, it's challenging to scale a solid panel vinyl fence. A vinyl fence can help keep out potential intruders and trespassers. Those solid panels also help block soundwaves for a quieter yard. Your neighbors might also appreciate that added sound insulation if you have children or pets.
In conclusion, a vinyl fence might not add value to your property during an appraisal. However, it might mean a more desirable property to potential homebuyers, making it easier to sell your home. You might also be able to increase your asking price after investing in a vinyl fence. Your real estate agent can advise on how vinyl might be a good choice for your property.
What Is the Life Expectancy of a Vinyl Fence?
Another advantage to vinyl is that it often lasts 30 years with proper maintenance. In contrast, many wood fences might last just half as long! Additionally, over the years, wood fences need regular cleaning, sealing, staining, and other upkeep. On the other hand, vinyl usually requires nothing more than occasional power washing.
This information is vital to consider when comparing wood and vinyl installation costs. In many cases, it's more expensive to install vinyl than wood. However, lower maintenance costs and a longer lifespan often make it more cost-effective. It might also look better than a faded wood fence!
Fence Company of Rhode Island is happy to provide this information about a vinyl fence. Hopefully, you've found this post informative and helpful regarding your property. Call our fence installation contractors if you're in the market for new fencing. We offer FREE consultations, price quotes, and guaranteed satisfaction on every project. Additionally, we carry only the most durable fencing materials today. Contact our customer care team today to find out more or schedule your no-cost, no-obligation appointment.