A wood fence in Rhode Island is an excellent choice for any property! Wood fences offer a neutral background that works well with any home architectural style. Additionally, you can paint wood fences somewhat easily, allowing you to change its appearance over the years.
However, if you're like many homeowners, you might wonder the cost of a Rhode Island wood fence installation. Also, it's vital that you consider added fees you might not expect when you choose a new fence installation! To ensure you make the right choice for your home, check out some basic information about costs for wood fences in Rhode Island.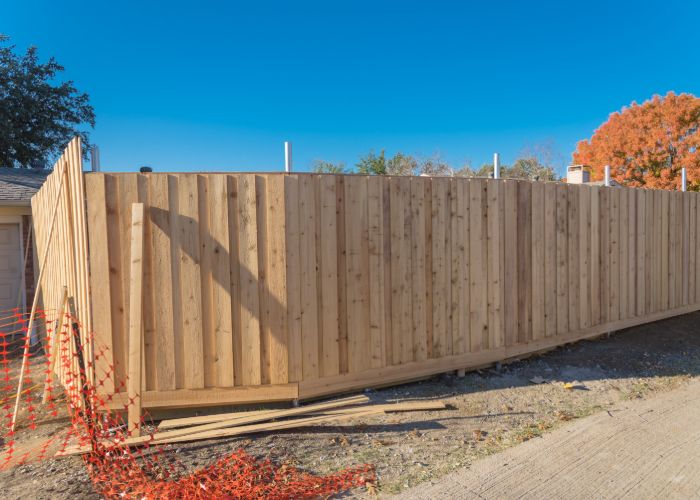 Pricing a Wood Fence in Rhode Island
First, note that most fence installation contractors charge by the linear foot, meaning one foot of a fence's width. Second, remember that this cost often varies according to wood type, fence height, and other vital details.
Also, a fencing contractor might charge extra for gates or for shrub removal and other cleanup services. They might also need to tack on the cost of a permit for your new fence. Lastly, remember that changing lumber prices in your area can also affect wood fencing costs!
With that in mind, consider that wood fencing might average $14-$31 per linear foot or $2000-$4400 in total. Note that these averages are for fencing an entire yard! In turn, you might pay as little as $700 for a fence around a small section of your lot. On the other hand, wood fencing for larger yards might run $7000 or more.
Breaking Down the Cost of a Wood Fence
To help you better understand the cost of a wood fence, consider what often affects its price overall. You can then discuss your options with a fencing installation contractor near you.
Wood type
Every lumber type has its own price point, often affected by its color and durability. For instance, you might pay about $48 per linear foot for rich redwood. On the other hand, simple pine might run about $28 per linear foot.
Also, note that local lumber prices affect fencing costs, as said. As an example, local suppliers might need to bring certain wood types from out of state. In turn, those types might cost more overall.
Fence style
Some fence styles use more lumber, which raises their price. Also, fabricating fence materials such as cutting pickets along their ends also means more labor and higher prices! In turn, you might pay less for a simple rail fence than for a privacy or picket fence.
Height
Fence height also affects its overall price, as taller fences require more lumber! Additionally, taller fences are more cumbersome to install. Consequently, a fence installer might need added assistance for a tall fence installation. Homeowners might expect to add 20% to their installation costs for an 8-foot fence versus 6-foot; subtract that 20% for a 4-foot fence versus a 6-foot!
Gates
Gates need special hardware including hinges and latches, and specialty installation. In turn, you might pay an extra $175 to over $1000 per gate installation for your new fence. This price goes up and down according to the gate's locking mechanism, hardware size, and so on.
Land slope
Working on sloping land poses some unique challenges for fencing installation contractors! Consequently, they might charge extra for having to work around slopes and hills. Additionally, they might also raise their prices for working a fence around landscaping features and other obstacles.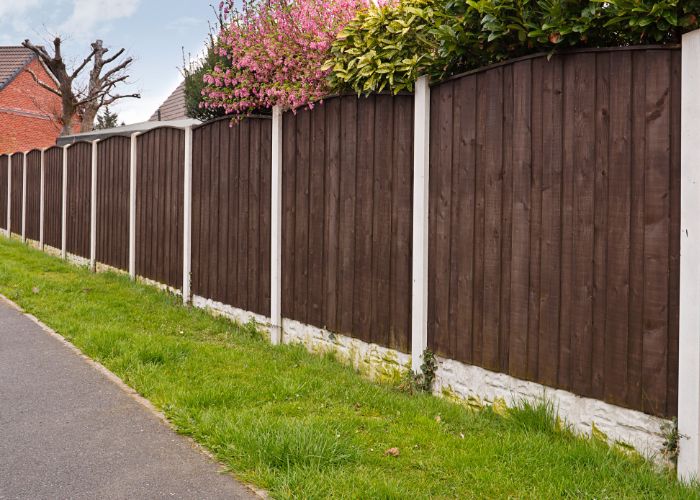 Extra Services That Affect Fence Installation Costs
In addition to wood prices and fence size, there are extra services that affect average fence installation costs. Be prepared to discuss these with your fence installation contractor:
Removing an existing fence might cost $3 to $5 per linear foot. This cost might go up if the fence is especially difficult to manage or creates excessive debris needing removal.
Clearing away shrubs and trees typically costs $10 to $14 per foot. However, some contractors might offer a flat charge after inspecting your property. Also, some might charge per tree or bush needing removal!
Painting or staining a wood fence keeps it looking good while providing protection against wear. Expect to pay an added $500 to $3000 or more for a fencing contractor to paint or stain your new fence.
Fence Company of Rhode Island is happy to provide this information about costs for a wood fence in Rhode Island. Hopefully you found it useful! If you're in the market for a new fence, call our Rhode Island fence installation contractors. We offer FREE quotes and guaranteed installations. To find out more, contact us today!